Coloring process goes ahead little by little like a snail goes.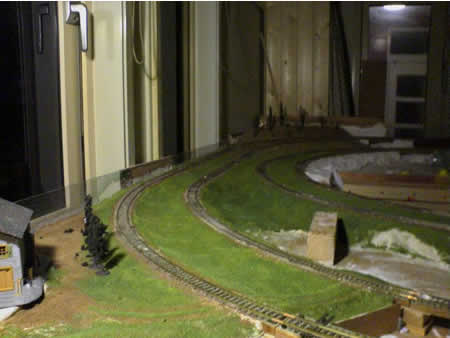 The first corner is located at this end, the second cornor is done at the deep end.
Getting closer to the second corner.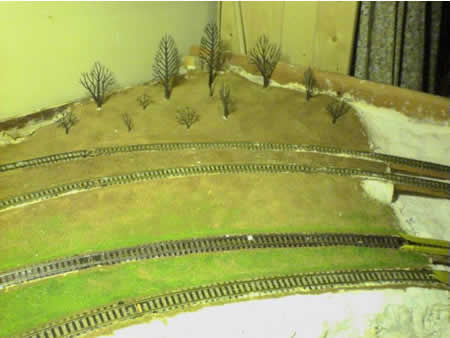 I'm planning to put many deciduous trees at this corner so that I made it brown at the ground. It needs a lot more time to color scenery by scenery powder than paints. Maybe it won't need so much time if you just need to color a completely flat 1 square meter, but what I have been doing is to color up/downhills which are very narrow and complicated. You put brown powder along the rails then 3 kinds of green powders ( light green, green and dark green ) around. Sometimes the powders slide down to the bottom which is hard to fix. Maybe I am lucky if I can go ahead 1 meter a day!
But when you do that way, the powders create a tiny bit of uneasy surfaces which make it realistic. Maybe the uneasy surfaces are just around 1 mms but this model train stuffs are 1/80 - 1/87 scale, so if the uneasiness were just 1 mm, it would be 80 - 87 mms for real which I really love to have. That's why I can keep going on inspite of having far sighted eyes which seldom forcus things good lol.......