I am now trying to make lakeside scenery before some Realistic water would arrive.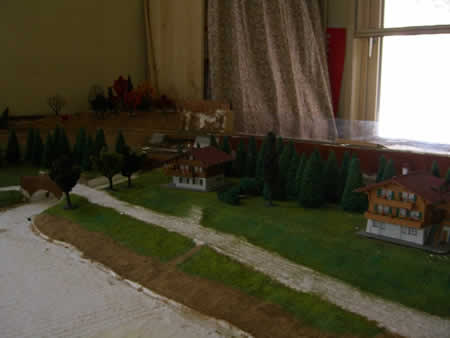 Put some conifers at the background of houses there to hide rails, covered the ground in front of them with green powder to express grasses. Did the beachside with brown powder to express them. Not decided how to do about the path, so just leave it s it is. Tried to put only evergreen tree in front of a bridge which is over a stream, noticed it appeals some visible effect.
Looks like this when you see it from the bridge side.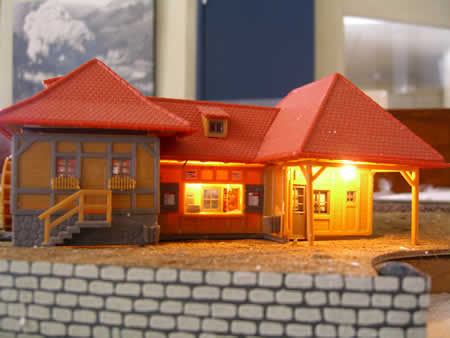 A Feller mountain restaurant is also located in this area.

T.E.E (Trans Europe Express) train Gottardo is now running behind the trees. Would like to hide it more by putting more trees though. You can see a larger image of this pic by clicking it.

Gottardo keeps going on and on and on.

A JNR (Japan National Railways) electric loco EF60 is pulling a 6 blue train cars behind the trees. When locomotives, passenger cars are painted in similar with green, it looks different from the case of Gottardo.

EF60 and a blue train keep going on.

Came out of the trees.

This is how it looks when you sit in a chair in front of the control board where the power packs are.

Watching out the EF60 train coming out of the trees by sitting on a chair in front of the control board. Many posters at our J-blog say they enjoyed this kind of view by laid sideways putting a textbook of their school just in front of the truck. Now it comes easier here, just by sitting on a chair!
Hayaokidori website