Found a memory of one of my past trip to Hokkaido. It's a JNR (The forner Japan National Railways ) green car ( 1st class passenger car ) reserved ticket for an express train "Kitakami 3" from Sendai to Aomori. It says I seemed to buy it at Kooriyama station.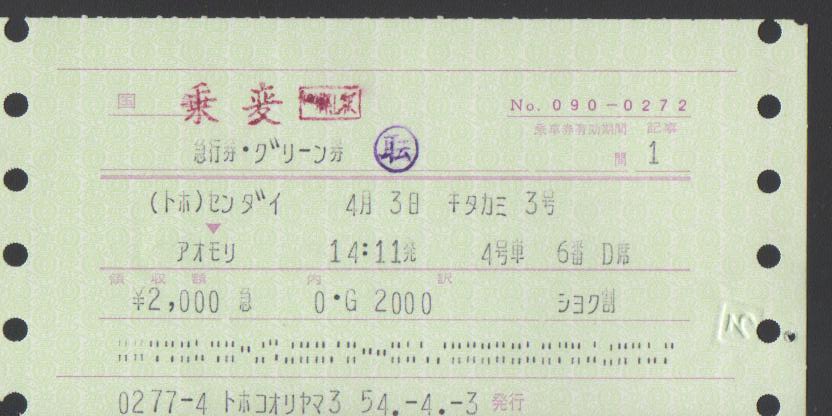 Now I think it just takes a little bit more than 2 hours from Sendai to Aomori by Shinkansen to Hachinohe then change train there for Aomori. But at that time, it took 4 and half an hours if I remember right even by a limited express train "Hatsukari" from Sendai to Aomori which most people took in that case. But I thought it was not interesting to do that, so I decided to choose something else and took that train that went to Aomori along a detour for Aomori. This ticket says that "Kitakami 3" left Sendai at 14:11. If I remember right, that train reached Aomori around 22:00 by running on the Tohoku main line to Kitakami then took its route on the Kitakami line to Yokote, then all the way to Aomori on the Oou line.
After I reached Aomori, I got in a ferry to Hakodate to take an express train "Niseko" to Sapporo. Took trains to reach Obihiro , Kushiro direction through Karikachi summit.
Hayaokidori website