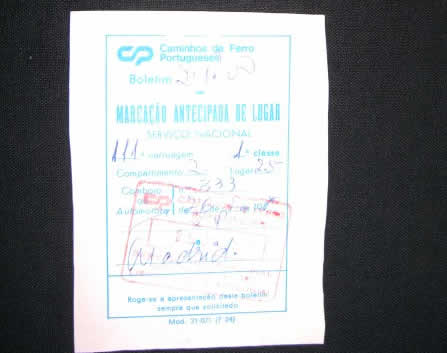 It's a reserved seat ticket for Lusitania Express ( Lisbon --> Madrid ) when I traveled around Europe by myself in 1982. Lusitania is an old name for Portugal. Lusitania Express was a night train.
We were able to reserve seats for Lusitania Express as well as others. As is often the case with trains in Europe at that time, it was not so strict to sit somewhere even if it's a reserved seat or no reserved seat. This reserved seat ticket told that the reserved seat for me was in a 6 person compartment. Compartment type seats were very popular at that time in Europe especially in long distance trains. Sadly I hear compartment type seats have been decreasing little by litte though.
When I traveled there, I always pull all the seats in a compartment to make there flat like a tatami mat room to sleep by lying down when it was not full. That time we had 3 people in the compartment so we did that to sleep. Other 2 were females, so they *commanded* me to sleep at the passage side as a bodyguard lol.... I thought they were enough strong! shhhhhhhhh!!!!
The designed "CP" letters at the upper left is the CP for Portuguese national railways. Lisbon is a capital, but the Santa Apolonia station where most international trains for Spain leave and arrive was not big. There were 3 train tracks if I remember right.
Hayaokidori website