The roof of our place does not look that big while I look at it when I am on the ground but once when I climb up there, it looks big enough to paint it all!! I started painting the roof somewhen in the first half of back in this June but it's still going on and on and on little by little. I do the work only when it's fine, when I don't need to cook any for guests, and when I have some time for it. That's why it takes this long :( I know I have been doing this work too seriously and anyway if it's on a roof in a snowy place, it's not flat at all there. How steep? --Horizontally 10: Vertically 4.
#1. Washing the roof
#2. Deleting stain and paint protection for it
#3. Painting the roof
#4. Painting it again (In short, painting it twice having an hour or more of rest )
Equipments like brushes etc are all in a special box applied the roof angle.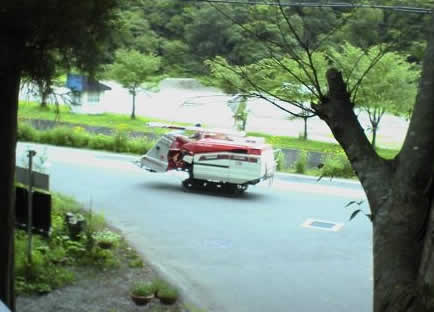 Sometimes I see something interesting while I am on the roof. The car in the pic above is probably what we call " co-n-ba-in " in Japanese. It's a special equipment to harvest rice. I don't think we can find it going in a street in big cities lol..... It's a countryside here that's why we can see this kind of stuff going in a street sometimes.
While I am on the roof, sometimes small birds and bugs get close to me. Maybe they are curious to see what I do?
Hayaokidori website