I often cook something from vegitable geratine which we call "Kanten". It's made from sea weed. We can get dried kanten in some shops easily. When you cook something from vegitable geratine, you just put some vegitable geratine in some water then simmer/boil it in some water. Vegitable geratine is one of healthy food, you can use it just like geratine. Maybe I had better inform you that vegitable geratine would never be melt again even if you heat it after you curdle it while normal geratine do.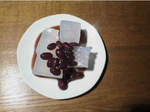 Plain Kanten with sweet black beans. If you don't add any sugar when you boil kanten, it does not taste at all which is a bit tough to eat lol... So usually we add something sweet. When you add some fruit in this plain kanten with sweet black beans, that is what we call "Mitsumame" here in Japan. Actually this plain kanten with some sweet black beans is my diet menu!!! I eat some of it ( usually 150 grams ) BEFORE I have dinner to avoid eating too much yummy stuff :(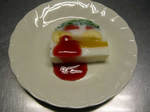 Fruits terrine Gyunyu(milk) kan ( abbreviation for kanten ). We can try any fruits. I've noticed that we have many kinds of fruits which are like yellow in color but not so many in other colors. Peach, pineapple, banana, apple, orange etc are all like yellow but if it's red - maybe strawberry, rasberry etc and if it's green- kiwi? Bananas feel great when they come into my mouth, as grapefruits are a bit sour , it would be outstanding in the gyunyukan, so I think some love it love it very much but others don't love it don't love it very much.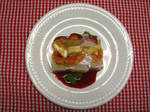 Fruit terrine I made last year. I guess this could be one of bad example in the meaning of combination. Too much fruit in it. If it's too much, it easily gets out of shape when you get it out of a form. I guess maybe that's a good idea to put as much fruits as it does not get out of shape :-)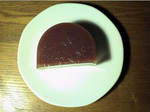 Mizu Yokan. Made from vegitable geratine, anko ( sweet bean paste ), some water and sugar. Now trying some combinations : how much water , anko , sugar for some vegitable geratines. Mizu Yokan is one of popular sweet thing especially in summer I think because usually we eat them after we cool it very good.
Which one is your favorite?
Hayaokidori website