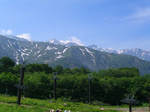 Went up to Hakuba Goryu Alps daira botanical garden to pick up weeds there. I prepared some towels to protect my neck from sunburns and a hat to do my head. Noticed that when we get older, we prepare something different for different purposes which we never needed when we were young lol......
Pay attention at the left side pole which is a bit vended. Some pulleys for chair lifts wire are hanged at the middle that may look a bit funny for skiers and snowboarders who visit ski resort in winter. They hang the pulleys lower in summer beause if they leave them at the top as well as in winter, passengers are to move very high in the air which might be a bit danger. This is why they hang them lower in summer if the lifts were in service. Only for this event, they need to get an authorization, Japan is full of authorizations here and there!
As we get 2 - 3 meters snowfall here in winter, they need to hang them upper in winter.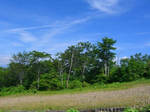 The altitude of Alps daira is around 1,500 meters. It was 20C today with cool and dry windblow which made us comfortable to do the work.
Hayaokidori website