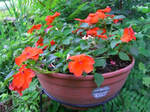 Japanese sometimes talk about baby bamboos after raindrops because they grow very fast after raindrops. I have never heard of it if it's impatience but they seem to grow faster after raindrops than in fine dry days though they don't grow that fast while we give water when it's not rainy. This shows how nature works.
I made this pot full of vermilion flower since I would have liked to make a small vermilion spot in green.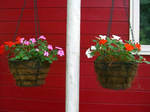 Hanging baskets. A combination of vermilion, pink and white. Hanging baskets gets dry sooner than other pots which are for example unglazed pots. We need to manage water for them. From my experiences, as far as we put inpatience in the shade or half shade, we had better keep them a bit dry rather than moist. If it's moist, impatience tends to die.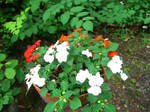 A combination of vermilion, red and white. White makes its contrast very clear. But hum.... looks each and every pot grows as they like lol.... Maybe I had better cut them a bit sometimes to keep the looking better.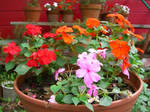 A combination of vermilion, red and pink. There used to be a kind of pink which was a bit dark and was in good combo with white. But I have never found that pink anywhere recently. Probably they don't grow that one any more.
Hayaokidori website