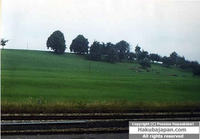 When I traveled in souhern part of Germany called Schwaltzewalt, I was on local railways which needed me to change train some times. Not so many services available, perhaps once in 2-3 hours while express trains in major lines provided frequent services like once an hour. Needed to spend some hours at tha station but if there's this kind of beautiful scenery around, it never bored me.
Kaufbeuren is located on the way from Lindau to Augsburg.
View a bigger map
Here's a scenery from a train from
Lindau to Kaufbeuren
. The second picture is that.
Hayaokidori website