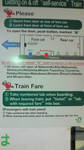 Found this English description at the closest train station. It explains how to get on and off trains driven without a conductor. Local trains here are a lot often in service without a conductor. We call this kind of trains "One-man" trains because the driver has to do the work all by him/herself. 
This sign says "Self-service train" for it. I am not sure if this were a correct expression or not. English is not my mother tongue, so I am not really qualified to mention anything but sounds as if I need to drive the train! lol....
I had better ask it to someone whose mother tongue is English. 
Hayaokidori website