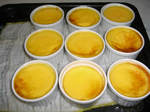 I made these puddings in some small souffles. I do cook, it changes that the way how to cook something depends on the time. For example something must be sweeter before than now but nowadays less sweet things might be preferred because of the diet boom. It seems that there are many ways to cook puddings, I have my way to do as well as others. So i always try to find the best way for it by repeating some failures and success.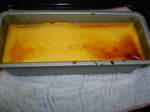 This one is in a bigger vessel originally for baking some cakes. 30 minutes needed in an oven. 20 minutes for souffles but this is bigger, so needed more time.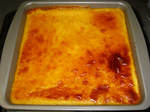 Biggest of the three!Very big but shorter then the previous vessel, so it just needed 40 minutes being in an oven.
I guess you know you can enjoy puddings soon after you take some from an oven if you have ever made any. Usually we enjoy puddings taking them out from refridgeators but hot ones are also great!. This is only those who make puddings by themselves can enjoy because puddings sold in shops are usually cold.
Hayaokidori website