Lately I feel I have to do something for my model train after a long interval. Anyway I have a layout, so what about replacing motors if some locomotives or motorcars don't run good?
This below is what we call "can motor".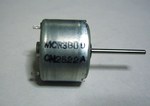 They say if you replace an old vertical motor into this one, your locomotives/motorcars can go very slowly as well as fast running. Also, it consumes less electricity which works better when your layout is a DCC one.
But the problem is the long shaft - the right side thin pole. It's a bit to get in a worm gear, so I have to cut it a bit. I don't have a special stuff for it, seems I have to find a good rooter ( spelling?? ) for it.
Some bloggers of same hobbies adviced me to find a proxon one, so I have been browsing web sites to learn how it works.
Hayaokidori web site