Finally delfinium flowers are getting in bloom this year, too.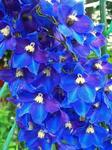 Seldom find blue flowers for flowerbed. Our house is painted in red, so red flowers are not good combination with it. That's why delfinium flowers get our attention.
 As delfinium get tall, we have to have some pillars for support them. This is a little bit tough sometimes, but the flowers are very gorgeous in color and shape, no other flowers can not look like that.
When you grow delfinium, we don't recommend you to seed some if you were not patient enough because it needs around 3 weeks to germinate, not good germination(maybe around 50% or less ) and it takes more than 1 year to see the first flowers!
If it's in Hakuba, you need to seed some around the Golden week when cherry blossoms are in bloom here, then you will see the first flower at this time of the year ( rainy season ) next year. They survive under the snow.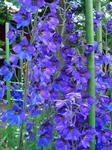 Even when you get some pots, you need to put 4 pillars per one if it grows good. You tie the 4 pillars round and round by string to support the tall flowers. This is a bit hard work sometimes, so maybe you should not grow many pots for the first time.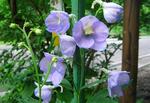 Each and every pot shows slight different color. If you could have flower beds big enough to have many delfinium flowers, probably you can enjoy the difference. 
Hayaokidori website