My HO gauge model train layout has a tiny lake in it. I used some "Realistic water" ( by Kato ) to represent water. It's anyway a kind of varnish, so it seems that it gets thinner and thinner by the time going.
So, I tried to fill some realistic water into the lake again to make it look fresh.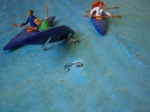 Tried to take kayaks in the lake, but it was as if they were glued to the lake! I was very careful to take them but see, the surface of the lake water was taken away :(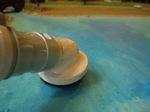 A vacuum cleaner was at work!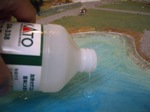 Painted some broken part to fill some realistic water. You have to fill the water slowly little by little.
Making it flat by a piece of wood.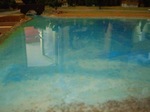 Fresh water!!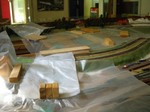 Have to cover the lake all over not to get it dusty. It needs probably around 24 hours to make it dry. It's not like we need to wait for 3 minutes to get something to eat nowadays :o
I will take the cover away tomorrow.
Hayaokidori website