I bought a new digital camera which enables to connect 3 pictures as one.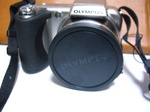 It's not powered by a lithium battery but by 4 size AA batteries. I almost said "huh? AA size batteries?" but might be convenient while I am out. It's not easy to charge a lithium battery there but easier to get some AA size batteries. 
First trial to make one.

Erm... I guess perhaps you can find the connection part very easily lol...
I have to train the skill how to do!!!
A bit wonder this is good or bad when we get this kind of useful stuff.
Hayaokidori website