The biggest snowfall this season since last night. I needed to remove the snow, ready to go! 。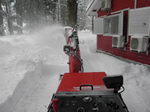 Around the front. Keep throwing the snow at the border with a path. Have to be careful not to injure anyone or any cars.
Our parking.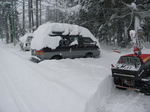 Look at the left caterpillar of the snow blower! We got 40-50cms snow only in a night! We are located along the main road which reaches Hakuba Goryu ski slope, so I always need to be careful passers by and traffics when I remove snow.
Opposite side of our house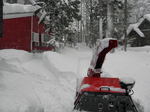 No public snow removing service available there. So when we need to remove snow there, I do.... but if it's not needed, I don't lol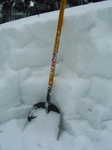 The roof of our warehouse is not steep enough for the snow to drop off by itself, so I need to climb there to remove it all. This picture is not the one this time, it's one in the past. But anyway I need to do the same every winter.
Now I am in my 50's, honestly saying it's a bit tough to do snow removing job whole day long. But have to enjoy it while I live here. If I lived in a warmer place, probably i don't have a chance to do.
They say it will be snowy tonight and tomorrow as well, probably i will do it again tomorrow as well.
Hayaokidori website