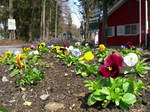 The other day I transplanted more than hundred pots of pangies into our flowerbeds. Since we still get some frosts even at the last half of May, we can not put any summer flower there. If we would do it now, probably better have them in some flower pots then move them below the roof when we get some frost notices.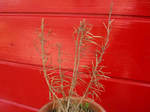 Someone told me that rosemaries would survive outside of the house even in winter so I tried that way but see, they were all dead! Actually they looked almost surviving in March but they got worse and worse in April. I think Hakuba is not an easy place for them to survive.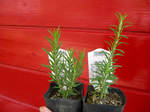 I purchased some new rosemary pots. Would keep them inside of the house in winter because we need them for cooking.
I was at outdoor whole day long when I transplanted the panties into the flowerbeds maybe that was why I got hay fever for the first time in my life. No headache at all but it felt itchy deep in my nose, kept sneezing a lot and had a runny nose which looked like zombie lol....
Hayaokidori website