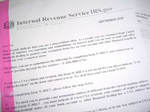 I got a mysterious fax today. It says it's from IRS(Internal Revenue Service). I don't run any business in the states, don't invest any stockmarkets there. So I really wonder why I have to get it. Made a call at the U.S. embassy in Tokyo to ask it. They sent an e-mail with some references.
One of them
The fax might be a phising, not sure. I have to make it clear.
It's getting more convenient day by day lately but at the same time, we also get some mysterious things. We need to judge correct things carefully.
Hayaokidori website