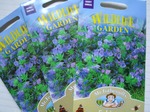 I got 3 packs of echium blue bedder seeds today and seeded 1+1/2 packs.
A couple days ago, I happened to find this flower on browsing web with a keyword "Delfinium". I think blue flowers look cool in summer, so I ordered 3 packs of seeds at a web shop. They say Echium blue bedder is very popular flower in the U.K, I think it looks like a blue bed if I can grow it good.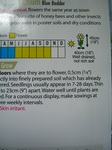 As they are imported from the U.K, everything is described in English. It seems that it needs 7-28 days for them to germinate. 7 and 28 are very different and sounds very approximate :) lol
I ordered 3 packs of it and just seeded 1+1/2 packs today. It's first time for me to try seeding this flower, I will seed the rest a bit later so that I can avoid having them all dead.
Hayaokidori website