A customer who stayed in our place a couple days ago brought many train cars, locomotives which were all painted in JNR color. Of course they ran the layout. The EMU train running in the clip is the former JNR 153 series train provided for the limited fast service around Kansai area - Osaka, Kyoto and Kobe. Both end cars were with lower windows at the control rooms.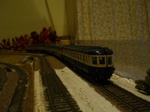 A streamlined train car 52 series which were built for Kansai area fast service train soon after the WW2 was over. They moved around here and there and at their last years, they were active in Iida line ( Toyohashi in Aichi prefecture - Tatsuno in Nagano prefecture ). In 1977 when I was a senior high student, I talked about getting on this train with my friends but we were not able to make it. We can not do anything after something disappears so we should do make it while they are avaiable!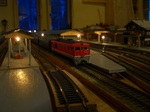 Old passenger cars local train pulled by a DF50 series diesel locomotive. It reminds me of the old Fukuchiyama line, San'in main line local trains. DF50 was a type of diesel locomotive which holds motors as well as a diesel engine. The diesel engine worked as a motor generator to provide electricity to the motors. Then the motors worked to run the locomotive to pull passneger cars, freight cars etc. In short, the engine on this DF50 did not work directly to drive the wheels, just worked to provide electricity. This type of diesel locomotives seemed to be a major system for the former JNR but it anyway had more complicated mechanics and heavier weight compared to the other type of diesel locomotives like DD51 which drive wheels directly by their engines. So, the latter type of diesel locomotives got major.
DD51 diesel locomotive pulling an old passenger cars train. This kind of scene were available in the good old days anywhere in JNR lines which were not electrified.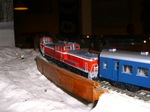 A DD51 with a DE10 as a leading helper running uphills beside a cross country sking trail.
An Ozashiki(Tatami matt) train pulled by an EF65(500). I think this coloring is a best fit for EF65(500).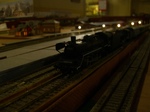 An old passenger cars train pulled by a steam loco C55. The white line at its waists looks cool.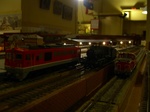 DF50, C53?, DE10? (left to right ).
Just an usual scene in good old '60s.
I enjoyed the former JNR trains which I don't have after a long interval. Also enjoy our customers bring their own trains to drive in our layout. The customer this time seem to build everything by himself. I envy him, wish I could have that skill! :(
Hayaokidori website