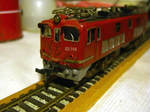 Finally I made it to repair my ED70 electric locomotive. It seemed that the motor itself was out of order.
I did stuff like followings.
#1 Took the loco into pieces.
#2 Checked the wires.
#3 Replaced the broken wires.
#4 Took off the motor and replaced it into a new one which one of our Japanese blog regular reader "Yamashina no Tecchan" presented me last year :-)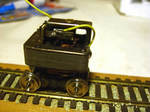 This is the original motor which my ED70 held. It wears a smaller gear box because it needed to supply the original gear box for ED70.
Hayaokidori website