I bought some rail cleaning cars at a web shop in the United States.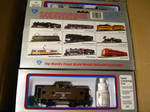 I subscribed myself at the newsletter of the web shop. They notify that they would provide some discount web coup'ons to their newsletter subscribers in a limited time. This limited offer got my attention and I had an access to their website to purchase some rail cleaning cars. Lucky it was just when Yen started stronger and stronger against the U.S. dollars, so my credit card was not charged so much even including its delivery cost :-)
Many American guests in my place have told me that post office delivery in the states sometimes does not work good. It might be late on time too much, sometimes the luggage might be broken! I was a little bit nervous because of that informations my guests gave me. But it was alright this time. :-)
Cleaning cars in this pic were sent from a delivery center in Illinois where Chicago is located.
The ones in this pic were sent from a delivery center in Nevada where Las Vegas is located.
 I have purchased some rail cleaning cars through some auctions but it was not timely, sometimes I missed to purchase ones. So I decided to get some from the manufacturer directly. Now I don't need to worry about rail cleaning cars for a while, I got a couple of them this time.
Hayaokidori website